July 2020 Update
Our Large Club Scope Project Is Finally Back on a Roll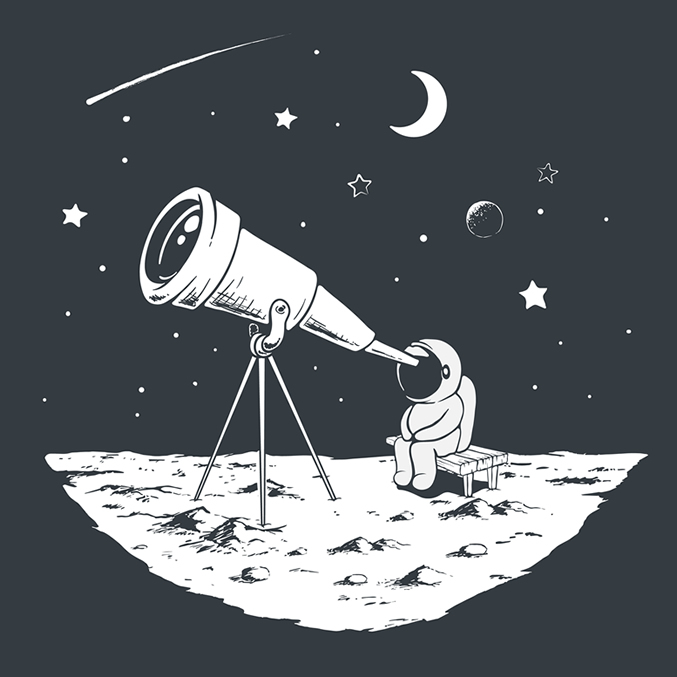 Our large club scope project is finally on a roll after collecting dust for around 20 years. Here is what has transpired the past year and a half.
Jeff Simsovic was not able to produce a 32″ mirror that would be usable in the club-built 32″ Dobsonian scope the club built. Three had defective glass and the one that was excellent was smashed by the shipping company on its return from the coaters. After four mirror attempts and many hours of grinding and polishing, he finally threw in his hand.
Jeff then bought us a completed homemade 30 " F 4.5 scope for a good price. It had a horrible mirror, but that was very workable, so he refigured and polished it. Then he coated it with silver. Best part is that it came with an almost $3000 computer system or GoTo. We always wanted this on our 32″ but did not have enough money left over to buy one, but now we have one. We sold the 30″ F4.5 Dobsonian scope last week but kept the GoTo computer system.
We will put the GoTo computer system on the club 32″ scope. The GoTo is amazing, consisting of two computers with digital servo motors and encoders. You punch in the object you want to see and push a button and the scope automatically swings on over to it and then tracks it. All you must do is look and be awed. It is a ServoCat run with an Argo Navis Digital Setting Circle system.
The Dobsonian Jeff was so kind to give us was built around the Obsession Scope design, which is way overbuilt and so is very heavy, which makes it hard to use for star parties. We did manage to drag it out to two or three National Park star parties, but it took four of us and an electric winch to get it into and out of trailers. The enclosed trailer we had bought is almost useless as it has too small of a rear door and no side door. To get the 30" to star parties, we put the scope in an open trailer and hoped it would not rain, which luckily it did not. The scope has been set up most of the past almost year and a half in my front yard where we have been fixing and improving it and observing. We spent many hours removing the kinks, of which there were many as it was old and had design flaws.
We want to use the scope chassis we built, which is much lighter, but also we want to use it because we spent our own blood, sweat and tears on it. Much of which was from built on the efforts of Dave Miller and cabinet maker, John Moulton, along with many donations and Hale-Bopp T-shirt sales.
So, a few of us took and chance and came up with $6500 to buy a used but, we believe, excellent 30″ F5 mirror. Colin Nicholls and his neighbor (who owns a 6-seater plane) flew out to Texas to pick up the new mirror. They removed all the rear seats and flew there and then back with the mirror all in one day. We wanted to take no more chances on having a shipper smash another mirror. Also, it was too dangerous to drive during the Covid-19 Virus.
Then we went about trying to sell the old donated scope. Last week we accomplished that, getting $7,500 for the scope. After we pay ourselves back, hopefully this will leave us with enough money for a platform ladder. We have been using 8- and 12-foot three-legged orchard ladders, which is "crazy dangerous". Only one person fell so far and, luckily, he did not sue us. He did not even get hurt as he only fell a foot or two.
We felt that the views in the monster made it worth it to take a chance with the orchard ladders. The views almost bring tears of joy to one's eyes to see the detail in objects we have seen many times in much smaller scopes. You could spend a half hour looking at deep sky objects and not see all there was to see. The beauty, too, was breath taking. Our new mirror is spec'd out to be even better.
Some day if given a chance we will sell the 30″ F5 and buy a 32″ F4.5 or so and get an additional 12% light. Call it aperture fever – almost as bad as the Covid-19. You die either way when you fall off the ladder or from bed, but at least you will die with a smile on your face if you die from falling off the ladder while looking at the Veil Nebula! Having a platform ladder will make viewing much safer.
We have not been doing star parties with the old 30″ as it has not been very portable to say the least as I mentioned before. One of our main goals is to make the club scope portable. The 32" chassis is much lighter and will be easier to use with a better sized and designed enclosed trailer.
Our task now is to mount the 30″ F5 mirror in the 32″ chassis and then cut the struts to length. Then we will use it for a while to get the bugs out of it before attempting to mount the GoTo equipment. We have lots of work to do, but we have enough talented club members to get it done. Along the way we hope to sell the trailer and get one with a wide drop-down tailgate and a side door and maybe a winch in the front. Hope for first light sometime this summer or fall. Then we will add the GoTo by next spring and hopefully find a useable enclosed trailer by then too.
My telephone number is still 505-579-4604. Call me if you think you can help us get the 32″ up and running. Also, call me to come and look through it when the new scope is up and running.
Lee Mesibov
El Presidente for Life of the El Valle Astronomers
---
Thank you very much to the National Aeronautics and Space Administration (NASA) for there generous media policy, allowing us to use there images for educationa, non-commercial use on this website.